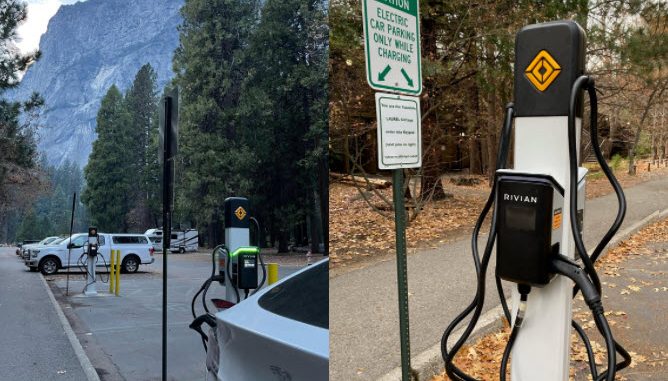 In keeping with the company's mission to place electric vehicle (EV) charging stations in adventurous locations, Rivian has installed new Waypoint chargers in Yosemite National Park.
Two different stations were spotted in the park and shared on the Rivian Forums.
One was seen in the Yosemite Valley Lodge parking lot, which featured two charging connectors with J1772 plugs.
According to Plugshare, these Rivian Waypoint chargers recently replaced some ClipperCreek level 2 chargers that were pay by use. Signage at the site indicates the Rivian chargers are free, but the display on the charger itself has a section for price, hinting that may not always be the case.
Another Waypoint charger was spotted at a different parking lot at Yosemite Valley Lodge. This location featured two chargers for a total of 4 J1772 plugs.
The signage indicating the need to enter a code on a keypad is from the previous ClipperCreek chargers' payment system, but like the other station these are also free.
Based on the usage information on Plugshare, both chargers appear to be well used by Tesla owners.
These are the second and third known Rivian Waypoint chargers installed by the company. Rivian has plans to install over 10,000 of these level 2 chargers across Canada and the U.S. by 2023.
Another 3,500 DC fast chargers will also be installed installed, and be part of the Rivian Adventure Network. They will feature charging speeds up to 200kW, but Rivian claims they will be upgradeable to 300kW in the future.
Source: Rivian Forums & Plugshare