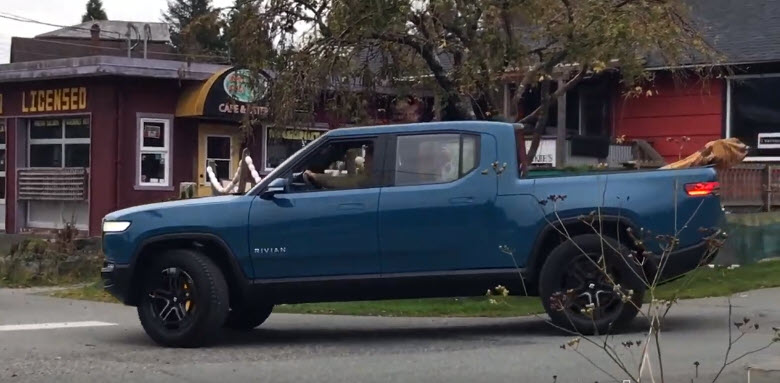 With the Tesla Cybertruck unveiling coming soon, the Rivian R1T pickup truck was spotted this week filming a commercial on Vancouver Island in British Columbia.
Save with big discounts at your favourite Tesla accessories stores, like 10% off at Tesmanian, TesBros and Nikola Pro, plus many more. Coupon codes at DriveTeslaCanada.ca/deals.
The Rivian R1t is due to be available sometime next year, but was on the roads this week in Ucluelet, just a few hours north of Victoria, the capital of British Columbia.
The R1T will come with a projected range of up to 640km, and can reach 60mph in 3 seconds. But with a truck, everyone wants to know about the towing capacity, and the R1T doesn't disappoint with an estimated towing capacity of 11,000lbs. It will be available with three different battery configuration, 105kWh, 135kWh, or 180kWh. It won't be cheap though, with a starting price of $69,000USD.
Thanks to Ukeedaze (Ukee is short for Ucluelet) for sharing the video of the Rivian doing some slow-rolling shots in Ucluelet, as well as some up-close shots of an interesting compartment under the truck bed.
What do you think after seeing footage of one in the wild? We'll have to wait until November 21 to see how the Tesla Cybertruck stacks up against the R1T.
Get 10% off at Tesloid.ca or Tesloid.com with coupon code DTC10 at checkout. Quality Tesla accessories with FREE shipping across Canada and the US.