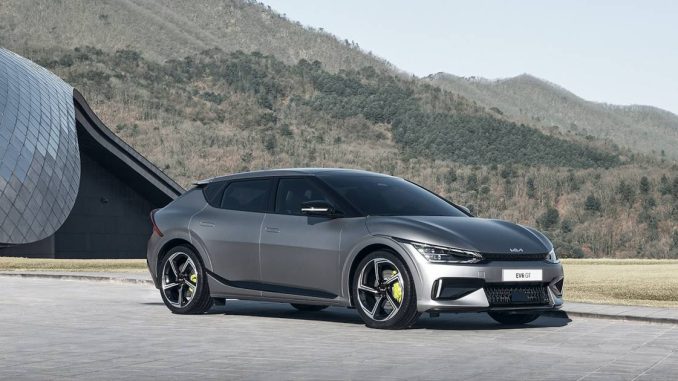 Kia has announced that reservations for the upcoming EV6 will open in Canada tomorrow. The EV6 is scheduled to hit Canadian streets in spring 2022.
According to an email sent out by the automaker this afternoon and shared with Drive Tesla, reservations will begin at 12:00pm EST (9:00am PST) on Friday, October 22, 2021.
Following Tesla's lead, the launch will be online only and dealers will not be able to take orders or deposits.
A $500 refundable deposit will be required to reserve your spot in line, but you will have to be quick as there will be just 200 GT-Line units up for grabs. Colour options will be Pearly Snow White, Pearly Aurora Black, Circuit Red, Yacht Blue, Matte Steel Grey.
Kia EV6 pricing in Canada has not yet been announced. EV6 First Edition model pricing was announced for the U.S. market earlier this summer, starting at $58,500 USD ($72,300 CAD).
The EV6 GT-Line will have an all-electric range of up to 480km (298 miles) on a full charge. Kia says thanks to its 577 horsepower and 546 lb-ft of torque from the dual-motor AWD setup, it will be able to reach 62mph in 3.5 seconds and have a top speed of 260km/h (162mph).
To place your reservation tomorrow, visit Kia.ca.
UPDATE October 22 9:10am PST: It appears Kia wasn't quite ready for the influx of traffic as the site was unavailable at the scheduled time. After about a 10-minute wait we were able to access the site and easily make a reservation. Unfortunately no pricing was announced.
UPDATE October 22 9:55am PST: Reservations appear to have sold out as the pre-order link is now showing a 404-Page Not Found error.