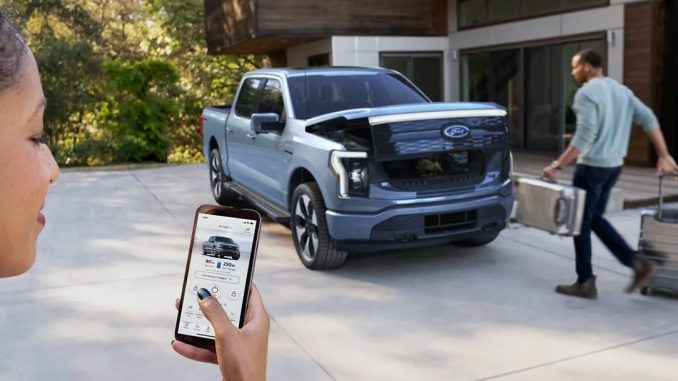 Ford is about to begin deliveries of its first electric truck, the F-150 Lightning, but for several months many of those trucks will be delivered without the Phone as a Key (PAAK) feature enabled.
As the name implies, the feature allows owners to use their phones as a key using the FordPass app, much like Tesla owners can with the Tesla mobile app. When enabled owners can ditch the traditional keyfob and use their mobile device to lock, unlock, start their EV, and perform several other functions.
According to a message sent ironically through the FordPass app this morning, the feature will not be delivered but will be enabled through a free over-the-air (OTA) software update "later this summer." (via F150LightningForum)
The missing feature was also explained in an internal dealer memo, which stated it will apply to the following configurations built from April 11, 2022 through June 2022. (via LightningOwners)
Lariat 510A with Ford Co-Pilot Active 2.0 (Option Code: 68C)
Lariat 511A
Platinum 710A
Ford didn't provide an explanation for why the feature is not working, but it could be due to the report we shared with you yesterday about a vulnerability in Bluetooth Low Energy (BLE) protocol that could allow hackers to gain access and steal your vehicle.
The vulnerability was demonstrated on a Tesla, but applies to any lock that use BLE technology, including your home's smart lock and obviously Ford's PAAK feature as well.
It could also be due to the difficulties Ford has faced in implementing the technology in the Mustang Mach-E. There have been numerous complaints from owners on forums that the feature is so inconsistent they still carry their keyfob with them just in case, defeating the purpose of the PAAK feature altogether.