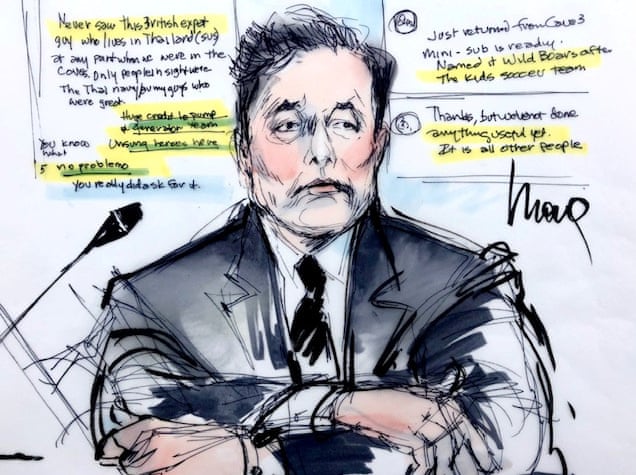 During his second and final day of testimony in the defamation lawsuit with British caver Vernon Unsworth over his 'pedo-guy' tweet, Tesla and SpaceX CEO Elon Musk admitted that despite being one of the richest people in the world, his monetary worth is largely illiquid and he doesn't have a lot of cash.
The revelation came as Unsworth's lawyers were questioning Musk on how much money he has, likely to help the jury decide on how much to award his client in punitive damages for Musk's tweet. The tweet which landed Musk in hot water was over Unsworth's comments about Musk and his attempts to help save a young Thai soccer team and their coach who became stuck in a cave as water levels rose too quickly for them to escape.
Musk had offered to design and build a submarine that could assist in removing the team from the cave. Unsworth, who apparently knew the caves well, ridiculed Musk's high-profile effort saying it had no chance of working and saying he should "stick his submarine where it hurts".
According to his own emails, Musk had pulled together his best engineers and designers, who normally design spaceships and spacesuits to work 24 hours a day on a solution to get the team out. He said the design would work with the same principles as a spacecraft design, namely that there will be no loss of life even with two failures in the submarine.
You should have seen the tweet storm begging him to intervene. He was more than kind considering how busy he was. pic.twitter.com/fJaP1AFHPK

— K10 ✨ (@Kristennetten) December 5, 2019
It's clear now to see why Musk was so angry over Unsworth's comments, which ultimately led to the 'pedo-guy' tweet. Musk said the comments unfairly criticized and disparaged the efforts of the engineers and designers who had worked so hard to help save the Thai soccer team.
Musk also stated on the stand that ultimately Thai rescue officials said they were "very happy" with Musk and his team's effort and the government thanked him for it, directly contradicting some of Unsworth's comments in the media at the time.
The trial is expected to close on Friday, with closing arguments from both sides. Then it will be up to the jury to decide if Musk was negligent in publishing a falsehood that clearly identified Unsworth and caused him harm.
h/t [SCMP]