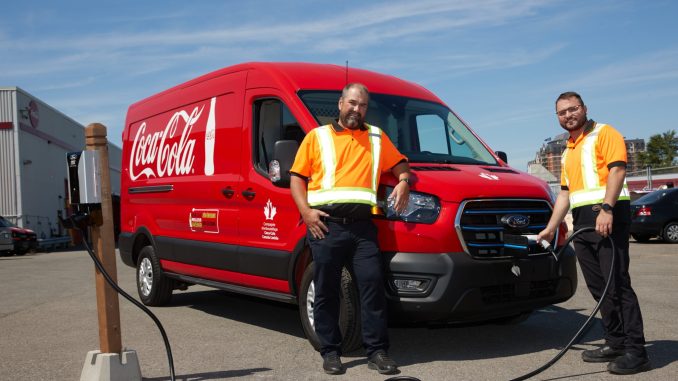 Coca-Cola Canada Bottling Limited (Coke Canada Bottling) announced today that the company is launching an electric vehicle (EV) pilot program in the Greater Montreal Area.
The company will deploy three Ford E-Transit light-duty electric vans which will be used to help serve the company's 16,000 clients in the region.
Coke Canada is venturing into the world of electric delivery vehicles to help reduce the greenhouse gas emissions (GHG) from its fleet of 275 light-duty vehicles across the country, of which 25 are in Montreal.
"We're very pleased to add the Ford E-Transit to our delivery fleet. We know we have work to do to decrease the emissions from our fleet and we're considering everything from electrification to biofuels and options like hydrogen," said Stephen du Toit, President and COO of Coke Canada.

We're building a business with sustainability at the foundation of our future and are looking to partner with suppliers who are leading the change in these areas to help us do it," he continued. (via Canadian Manufacturing)
Along with the E-Transit vans, Coke Canada will also install EV chargers at their facilities, as well as at employee homes to help minimize travel.
The pilot program has also been timed to coincide with the cold winter weather set to descend on Montreal in the coming months, providing the perfect testing grounds to see how the EVs operate in all weather conditions.