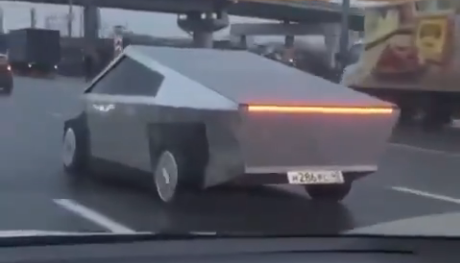 Tesla's Cybertruck was only revealed last month to lots of negative reviews and opinions due to its extreme styling, something which we've never seen before in any vehicle. But Tesla must have done something right, because we've seen people creating copycat Cybertrucks, from 3D prints all the way up to working half scale versions.
Save with big discounts at your favourite Tesla accessories stores, like 10% off at Tesmanian, TesBros and Nikola Pro, plus many more. Coupon codes at DriveTeslaCanada.ca/deals.
Now someone in Russia has created the first road worthy Cybertruck, as this video from Moscow posted to Twitter shows.
Как тебе такое, @elonmusk?

Tesla еще не начала продавать Cybertruck, а в Москве уже собрали свою pic.twitter.com/Zk2dO19Ftd

— Дикая Москва (@WildWildMoscow) December 19, 2019
Rough translation – "How do you like that, Elon Musk? Tesla has not yet started selling Cybertruck, but in Moscow they have already assembled their own."
Get 10% off at Tesloid.ca or Tesloid.com with coupon code DTC10 at checkout. Quality Tesla accessories with FREE shipping across Canada and the US.
At first glance you might confuse this for the real thing (ok, maybe not), but overall it's a pretty good knock-off.
The overall size is a bit shorter and taller than the real thing, the wheels are much smaller, and the wheel arches aren't quite the right shape, but considering this was made in less than a month and is already on the road is impressive nonetheless.