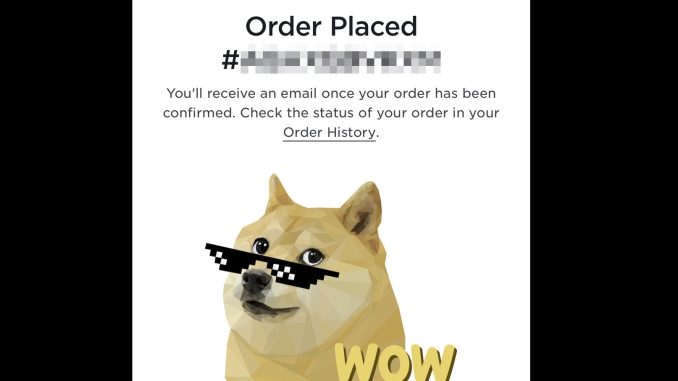 Earlier this week we told you that Tesla had added Dogecoin to the source code of their online shop.
The change was made after CEO Elon Musk said the company would accept the cryptocurrency as a form of payment for some merchandise.
Tonight the change has been made official, as several items on the Tesla Shop can now be purchased with Dogecoin. (h/t: @Sawyer Merritt)
Much like when Bitcoin was added last year, Canadians are left out of the cryptocurrency party again as the option is only available in the US shop. 
UPDATE 10:27pm PST: Dogecoin is now available on the Canadian Tesla Shop. You can buy the Cyberwhistle (300 DOGE), Giga Texas Belt Buckle (835 DOGE), or the 1:18 diecast Model 3 (970 DOGE). (h/t: @J_M_O_N)
One item you can purchase is the Cyberwhistle, which can be yours for 300 DOGE.
You can also purchase the Giga Texas Belt Buckle for 835 DOGE.
If you were an early investor in DOGE and have a large pile burning a hole in your pocket, you can spend 12,020 and get yourself your kids the Cyberquad (when it is back in stock).
If you do plan on using DOGE for your next Tesla Shop purchase, you will be paying a small premium.
At the current price of 1 DOGE for $0.18 USD, the 300 DOGE for the Cyberwhistle works out to about $54. Tesla regularly sells the Cyberwhistle for $50 USD.
Will you be purchasing any merchandise from Tesla with Dogecoin? If you are, let us know in the comments below which ones you plan to purchase.