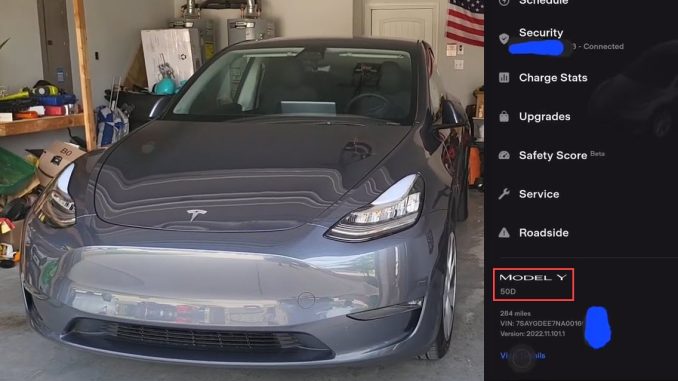 When the 4680 battery cell was first unveiled, Tesla said it would provide 16% more range than the 2170 cell. When the 279 mile (449km) range from a rumoured but unconfirmed ~65kWh battery pack for the Austin-made Model Y was revealed, many thought the new battery chemistry wasn't living up to expectations.
Based on what the Tesla Mobile App is displaying for the new variant, we may have underestimated Tesla and the battery could be even more efficient than originally advertised.
One of the first Giga Texas Model Y owners, Spoken Reviews, shared on YouTube that his mobile app is displaying '50D' instead of 'Standard Range' or 'All-Wheel Drive'. Going with Tesla's previous naming conventions, this would suggest the battery pack could be just 50kWh.
This means if Tesla were to use the same battery pack size as the Long Range variant (75kWh), it would get about 418 miles (672km) instead of the 330 miles (531km) the 2170 cells currently provide, or about 25% more range.
It is possible that Tesla has actually equipped the 4680 Model Y with a 75kWh pack, but have software locked it to reduce the range to prevent the Osborne effect, or people not buying the current Long Range variant in the hopes of getting the latest and greatest in the Model Y AWD.
Tesla has done this before, allowing customers to unlock additional battery capacity in the Model S in 2016, so it would not be surprising to see them do this again.
What do you think? Has Tesla software locked the battery, or is 279 miles as much range as the Model Y AWD from Giga Texas is going to get? Let us know in the comments below.